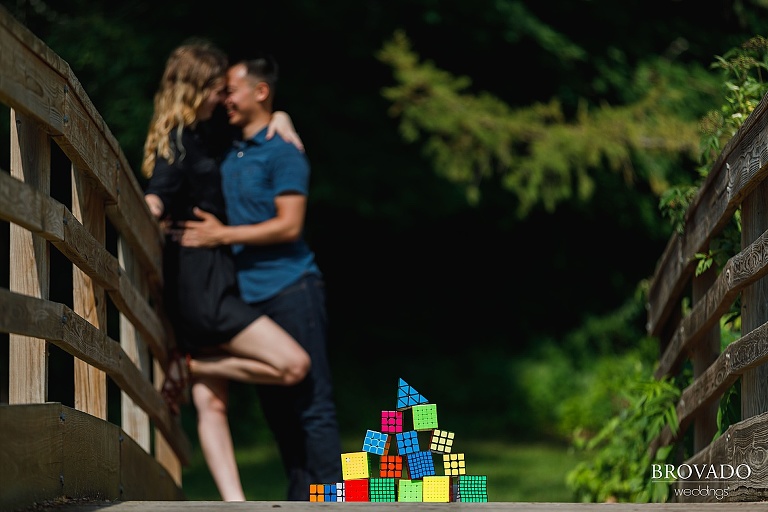 Today, so many love stories start the same. A tinder date, a meet-cute at a coffee shop, a mutual friend setting you up. Sarah and Chris's story is a little more unconventional – they met through speedcubing. Yep, you read that right! Chris has been speedcubing for 10 years, and when he saw a girl around his age at a competition in 2016 he knew he had to get in touch with her. Little did he know that he would be marrying this same girl three years later! 
These two are super good at what they do. Sarah can solve a Rubik's Cube in less than 15 seconds, Chris in less than 10. Sarah is also an immensely talented illustrator, and Chris is into video production. Chris even used video to capture his proposal! Here's his telling of how it went down.
"I'm a filmmaker so I knew as soon as I was going to propose it had to involve video somehow. I have another friend, Josiah that I enjoy filming stock footage with. So, I devised this plan to trick her into shooting her own proposal video without her knowing it. 

For a month I kept prepping Sarah that him and I were going to start collecting and uploading footage. The next step was to figure out how to get her from Kansas to Minnesota. Since we were long distance, an 8 hour drive, we liked to play this game where would show up in the other state to surprise the other person without telling them. Sarah and I did this many times over the course of our relationship. So I drove all day to Kansas without telling her I was coming and showing up to surprise her. She was shocked. I told her that Josiah and I were going to go to Duluth to film stock footage and I knew she would want to come with, since she absolutely loves Duluth.

The day of, she thought everything we were shooting was just for fun/stock footage. I would film her walking around and doing various things and my friend Josiah would do the same. But he slowly started saying stuff like "you guys should hold hands" and introducing more couple-related shots. We went to many different locations and finally landed at the spot that I was going to propose. It was this big bridge with beautiful fall colors in the background. Josiah told us to stand back to back and on 3 turn around and hold hands. Well, when she turned around I was down on one knee proposing"
Not only did Chris plan out this entire surprise, but he had Sarah's parents meet them for dinner right after Sarah said "yes." The video of their proposal is so sweet, so of course we have to plug it. Click here to watch it! 
Since these two are obviously no stranger to being in front of the camera, their engagement shoot was a breeze and a blast. They brought along plenty of cubes to pose with, which made for super unique and personalized images.  Sarah and Chris, thank you for bringing your whole, goofy, creative, intelligent selves to your engagement shoot. We are so looking forward to your upcoming wedding!