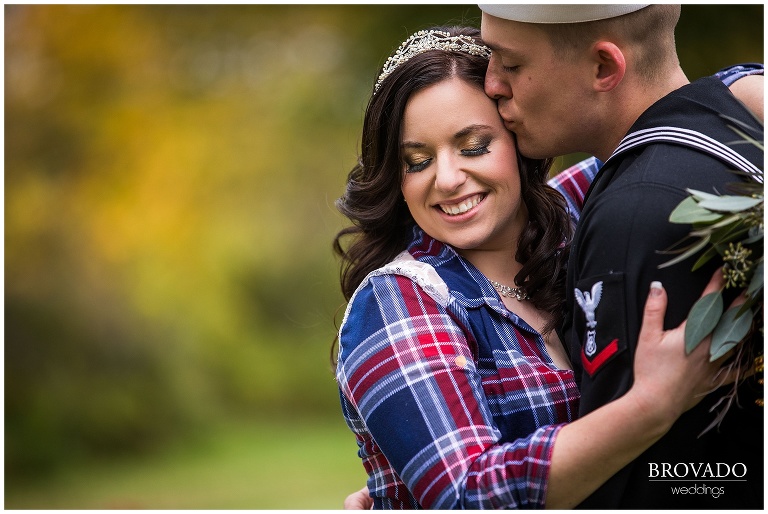 When Chris asked Kami to be his date to the Christmas Dance in high school, she agreed only on the terms that they would go just as friends. Although they were "just friends" the joke between the two of them became that they would fall in love while dancing together and end up getting married. High school Kami and Chris didn't realize it at the time, but they unintentionally predicted their future together. Eight years later, those high school friends are happily in love and married.
One of Kami's favorite things about her now-husband is his humor and ability to always brighten her mood and make her smile–even when she doesn't realize he's doing it. His proposal reflects this quality perfectly. The two were hiking (one of their favorite things to do together) at Gooseberry Falls, and had walked down to a streambed to sit and take a short break. When it was time to get up and leave, Chris insisted that Kami stand up first, so that she could help him up after. Reluctantly, she did, and when she turned around to help him, Chris was on one knee ready to ask her to spend the rest of her life with him. Her reluctance quickly turned to surprise and then immediately into pure joy as she obviously responded, "YES!"
Kami notes Chris's ability to bring laughter and joy to others as one of her favorite qualities about him. But on their wedding day, I quickly noticed that this is a quality that they radiate as a couple. Kami and Chris and their love for each other was contagious, and brought joy to all of the guests who came to celebrate with them. The newlyweds obviously love each other, but what they enjoy the most is sharing that love with those around them. Sharing special moments with friends and family was their favorite part of the entire day. From my perspective, it went both ways. Kami and Chris, it was obvious how much joy you brought your friends and family, even on your wedding day. Congratulations again, I have no doubt that your inclusive love will continue to bring you and those around joy for the rest of your lives!