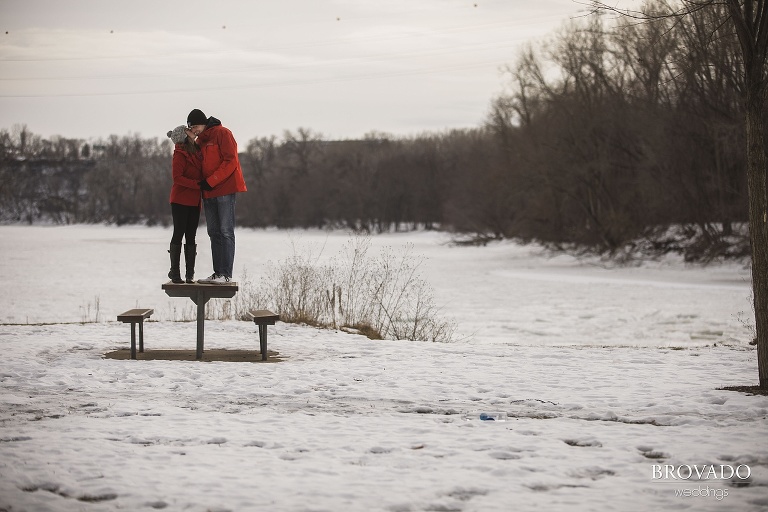 Before I say anything about Megan & Ben's story and how wonderful they are, I first need to tell you that the day we ventured out together to take these engagement photos was freezing. I'm serious, like 20-degrees-below-zero-with-windchill freezing. How awesome the pictures turned out, even in unfavorable weather conditions, is your first insight into Megan and Ben's personalities and their relationship. They so joyfully trekked across ice shelves and the frozen Mississippi River, enjoying time together, regardless the circumstance.
Our frozen adventure made me realize that Megan and Ben really cherish every second that they have together. A chance for them to be together is a chance to celebrate, no matter the weather or situation. They are both extremely driven people, who motivate each other to work hard but also motivate each other to take necessary breaks, unplugged from work and outside thoughts, to just focus on each other. I really admire this in them. Witnessing a love like Megan and Ben's, will always be worth bearing frigid temperatures.
They are truly the perfect pair, in so many ways. They both have similar interests: exploring yummy dinner and drink spots around the cities, tinkering with computers and electronics, being outdoors, and most importantly, the desire to never stop learning. They are alike, but not so much so that they don't challenge each other – they help each other grow. Megan says that being with Ben helps her to drop the weight of the world off her shoulders. A smile and a hug from him has an amazing ("super" in her eyes) power to make everything better. It is obvious that Ben is willing to go great lengths to bring a smile to Megan's face. The amazing proposal he planned for her makes that hard to deny. Stayed tuned for their wedding blog to hear more details!
Congratulations Megan and Ben! You two and your loving, adventurous souls are beautiful. Thanks for bearing the freezing temperatures with me! I'm down for round two if you are.