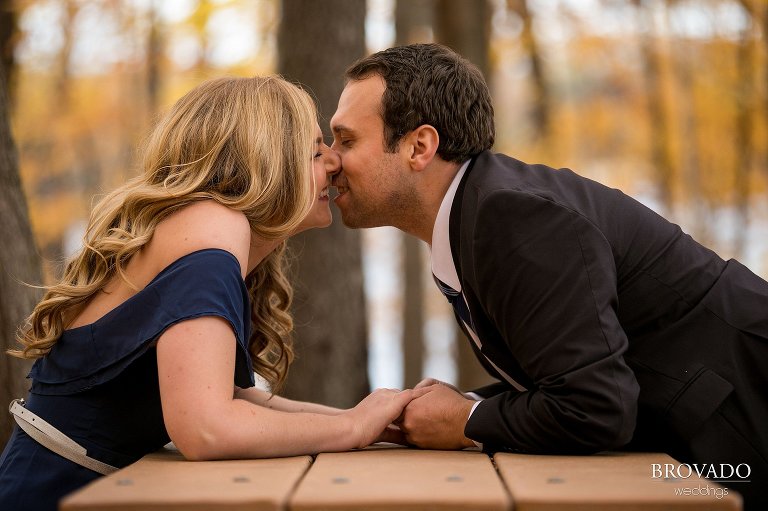 Before I go into detail about Rachel and Joe's amazing love story and relationship, I feel like I need to address how awesome their engagement shoot was. Rachel and Joe's engagement session was a picture perfect (literally) example of what a fall engagement photos should look like. Stunning bright yellow leaves covering the trees and the ground around them. The weather was cold enough for a sweater but also warm enough to dress up a little fancy, too. To top it off, they included their sweet dog Emma, who is not only adorable, but wore a scarf! Rachel and Joe made it impossible for this shoot to be anything but amazing.
After two minutes of witnessing Rachel and Joe's chemistry and one look at their adorable dog, I was sold. But as I continued to learn more about them, I couldn't help but fall in love with their relationship. I would describe it as powerfully simple. They met at work. It was Rachel's first job out of college, and Joe helped show her the ropes around the company. Just two months into officially dating, Joe looked at Rachel calmly and said, "Someday I'm going to marry you." They both knew that it was true. About five years after that, when the couple was vacationing in California, they made what they both knew to be true, official. While at a vineyard taking pictures for Rachel's fashion blog, Joe suddenly handed the camera off to a friend. Joe walked over to Rachel, with a huge smile on his face, and told her how beautiful she looked. And before Rachel knew it, he was on one knee, with the ring, asking her to spend the rest of her life with him. She had to take a moment to catch her breath and say, "YES!" And before he even had time to put the ring on Rachel's finger, it started pouring rain. If that isn't magical, I don't know what is.
I loved their shoot, I love their story, and I really love that these too know how to do something that many people don't—keep it simple. They go through life appreciating the little things and enjoying them together. Rachel described their favorite thing to do together, aside from traveling, as spending Friday nights in with their dog Emma, a movie, pizza, and beer or whiskey. These two just get it. They love each other, they love experiencing new things together, they love their sweet dog, they love good food and drinks, and they just simply love doing life together. And I love that. Congrats you two! I am beyond excited for your wedding.