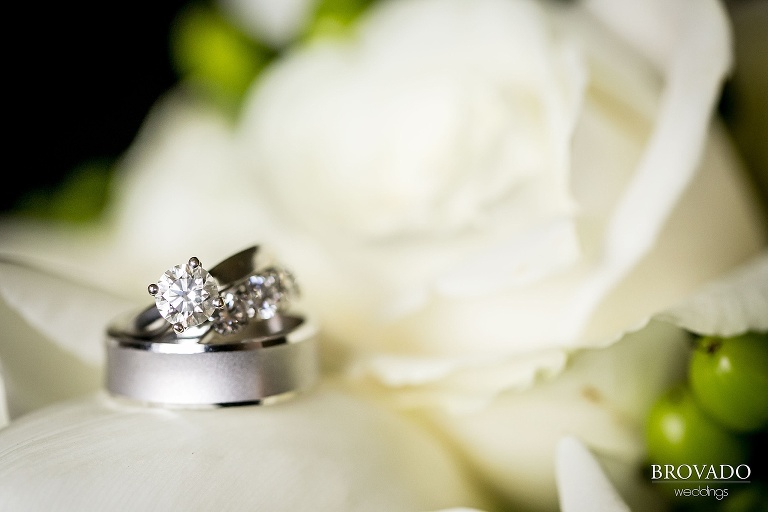 It was a polite favor for a work colleague and father that had Stephen casually standing at Ashley's doorstep holding her green and yellow packer jersey the first time the pair met. During all of her packing and planning for her big move to a new city, Ashley had completely forgotten to pack her favorite football jersey and had left it behind. A quick inquiry by Ashley's father to his coworker Stephen, found the couple exchanging cordial conversation on the front steps of Ashley's apartment. Stephen had personally driven and delivered Ashley's forgotten jersey to her so she could go out with friends that night and support her favorite team in style.
Ashley remembers thinking during that initial chance meeting, "What a catch! I have got to set him up with my cousin, Jill. He is rugged and handsome, just her type!" But…with a little prodding, Stephen convinced Ashley to meet up with him for drinks later that same night, and after a few drinks, a bit more conversation, and what turned out to be an enjoyable chance evening together, Ashley decided she wanted to keep Stephen for herself!
Ashley and Stephen pledged forever to each other in the same spot that Stephen asked Ashley to spend the rest of their lives together, at the Waterfront in Lacrosse WI. Friends and family traveled from near and far to share in the couples love, laughter and elation in vowing forever. The couple exchanged vows in front of a sheer chiffon canopy surrounded by elegant pillars, and white rose petals that lined the aisle of their intimate ceremony.
They toasted to their love, danced the night away in celebration, and fell into each others arms as husband and wife under a beautiful umbrella of vibrant fireworks lit off just for them.
Vendor List:
Ceremony venue – The Waterfront – La Crosse, WI
Reception venue – The Waterfront – La Crosse, WI
Wedding planner – Jessica Robey at The Waterfront – La Crosse, WI
Videographer – Sacred Light Studios – Minneapolis, MN
Officiant – Gary Krapfl
Hair stylist – Melissa Hammell from Simply Salon
 – Lansing, IA
Makeup artist – Esley Henkes
Caterer – The Waterfront Restaurant and Tavern
 – La Crosse, WI
Cake designer – Addiecakes 
- La Crosse, WI
Decorator – JoEllen Zitzner and Jessica Robey
 – La Crosse, WI
Florist – Village Floral
 – Grantsburg, WI
Dress shop/designer – Charlotte's Bridal, Martina Liana
 – La Crosse, WI
Tuxedos – Tony Bowls Manhattan Tuxedos
Limo/party bus company – Winona Wedding Planners
 – Winona, MN
DJ – Music Mix of La Crosse, Steve Michaels – La Crosse, WI
Stationer – Proline Printing – Viroqua, WI
Jeweler – Crescent Jewelers – La Crosse, WI
Jeweler – Paul Gross Jewelers – Wisconsin Rapids, WI