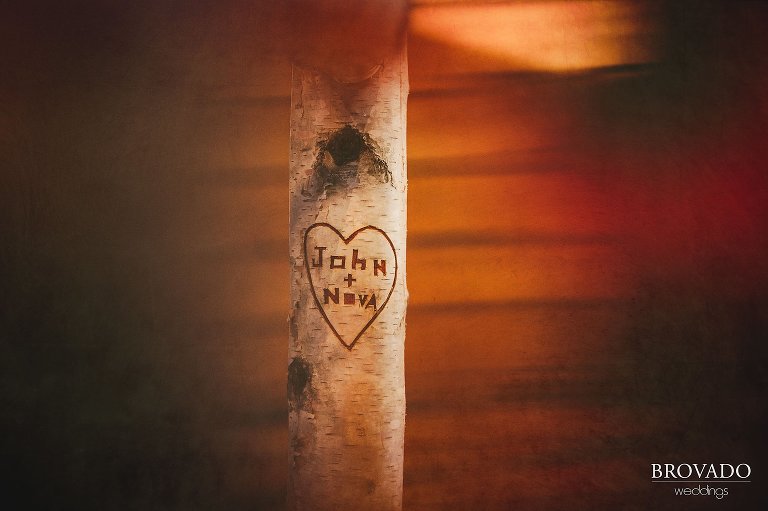 We first fell in love with Nova and John after hearing their engagement story. It was just so beautiful and unique. John teamed up with Nova's father to plan what she thought was an elaborate scavenger hunt for her birthday. The hunt led her throughout her favorite places in her hometown and ended with a huge surprise—John and a ring!
To say the least, we fell in love with this awesome couple all over again on their wedding day. The entire day held the same kind of character that their engagement story did. It was all so intentionally and uniquely "them." They continued with fall-themed details similar to their engagement photos and took it one step further by creating decorations that showcased their journey together. Each table was named after a different place they had travelled together and decorated with a pumpkin with the name of the place written on it. They even honored their common interests with awesome South Park cake toppers! It's special to be in an environment that is so personal to the people who created it. I felt like I got to know Nova and John better by simply stepping into their wedding venue, which is rare.
What's even more amazing is that the personal touches didn't just come from them—those involved in the wedding added something special as well. You could tell the entire bridal party was super close friends, who loved Nova and John. Which made it clear that this special couple didn't just focus on investing in each other, but they invest and care for their friends together as well. Everyone was just having a good time together. The dance floor reflected this perfectly, as it was full of energy and laughter all night. But the most touching and unique moment from the guests came from Nova's father, during his Father-of-the-Bride speech. As he was talking he slowly unloaded objects from a box he had brought with him. The first was a rock from the glacier he visited. The second was a full bottle of water from the same glacier that he had been saving for eight years. Those two objects symbolized the potential and trust he had in the newlyweds to grow old together. And to close, he handed an old rose bud to John, because on this day, he was "handing him his rose." It was so sentimental and intentional, it made it obvious how much he loved Nova, and how much he loved that John loved Nova, too.
I felt so lucky to be involved in a wedding that was so beautiful, so full of love, and so personal to the bride and groom. It was an honor to be let inside and given a opportunity to fully understand Nova and John's wonderful relationship and the wonderful people that surrounded them. Congratulations again, you two! You are so loved and you love so well, this will undoubtedly inspire a lifetime of happiness together.