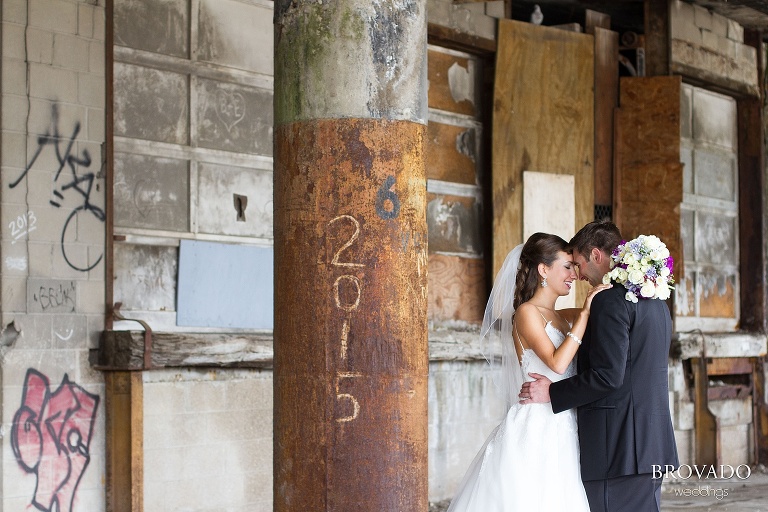 Ashley and Colin's wedding day was a whirlwind of emotion. Only the happiest of emotions, of course. But there were still a lot of tears.
This was because Ashley and Colin were simply overjoyed to make it official. Every detail had been sorted out, and the couple spent some time getting ready in the morning… They opened sweet love letters from each other, and there were some tears.  Ashley put on her Rush's Bridal gown, and had her hair and makeup done by The Blushing Room in a way that made her brilliant blue eyes pop even more, and there were more tears.  When she walked outside to see Colin for the first time, you should have seen it… Actually, you can! Just scroll down to see how ridiculously happy these two were to see each other on their wedding day!
Yes, it rained, and it rained some more. We took lots of pictures under bridges, overpasses and in parking garages (which actually turned out pretty great.) But they say rain on your wedding day is a good omen, and I say, so are tears.
Congratulations, Ashley and Colin! You two are perfect for each other!
Ceremony venue – Shepherd of the Valley Lutheran Church – Apple Valley, MN
Reception venue – Intercontinentatl St. Paul Riverfront – St. Paul, MN
Videographer – Matthew Smith 
Hair stylist – Bridget Wanchena, The Blushing Room – St. Paul, MN
Decorator – Erin Olsen, We've Got It Covered  
Florist – Gayle Kenow, Design n Bloom – Eagan, MN
Dress shop – Rush's Bridal – Minneapolis, MN
Tuxedoes – Savvi Formalwear 
Limo – Exceptional Transportation 
Party bus – Schmitty & Sons – Lakeville, MN
DJ & uplighting – Adrian Perryman, Events by MV LLC 
Pianist – Sharon Planer, Pianist for Parties – Minneapolis, MN