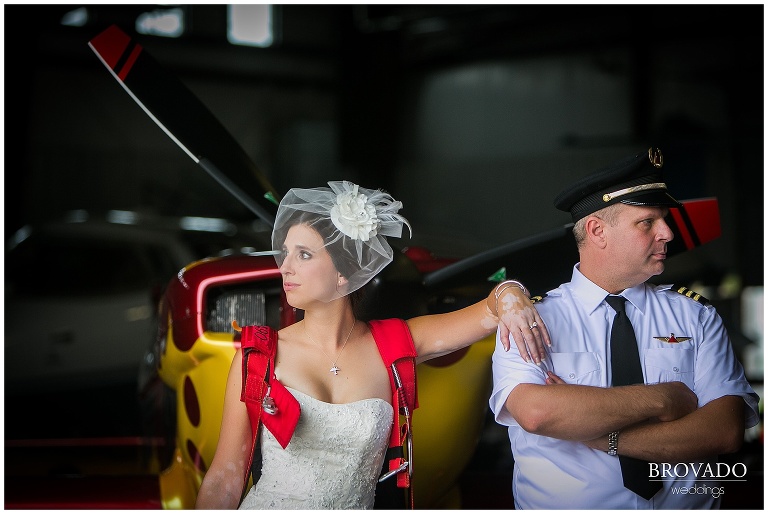 It was Brittany and Grant's fairytale to have an airplane themed wedding, and wow, did that dream ever come true. The pictures speak for themselves. During the ceremony an aisle of planes led Brittany to Grant, who was eagerly awaiting her in his pilot's uniform. After they officially tied the knot, the newlyweds flew across and landed on the lake to join their guests for dinner. The reception was held shortly after back at the airport, which had been charmingly decorated with aviation details. It was amazing. As a fellow pilot, this day spoke to my heart in a special way.
What arguably even more special than the simple reality of having a gorgeous airplane themed wedding was the community of people that came together to make it possible. The hanger at the New Richmond airport that Brittany and Grant held their day at is home to the planes of some of their dearest friends. These friends volunteered the planes that created the aisle that led Brittany and Grant to the moment where they would commit their lives to one another, forever. These friends flew across the lake with them, joining in the joy of their love for aviation, and more importantly, each other. This community of people loves Brittany and Grant so much that they worked hard to help them create their fairytale wedding and when the day came, they celebrated with them wholeheartedly.
Brittany and Grant, the love you two have for one another and the love your close friends and family have for you was so obvious throughout the entirety of your day. Although the theme of your wedding was unforgettable and amazing, those two loves ultimately stole the show. Congratulations again, it's hard to explain how much joy shooting your wedding brought me. I wish you two a lifetime of happiness and have no doubts that it will come true, just as your dream wedding did.