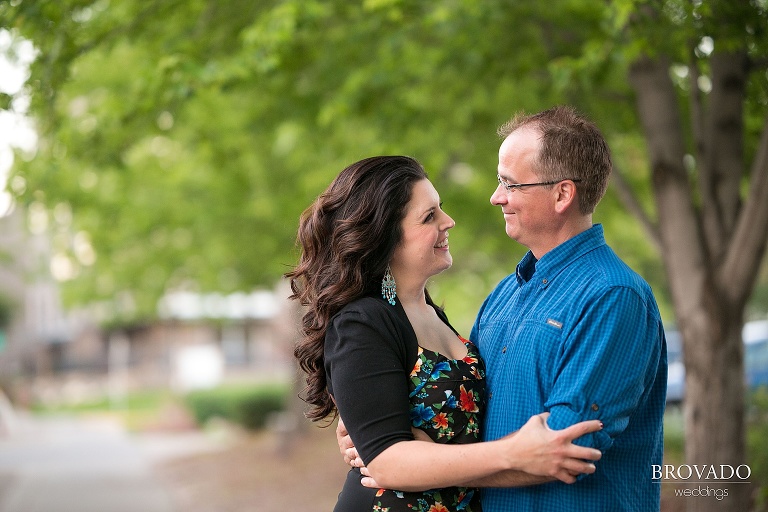 Maria instantly knew she would like Scott when she saw a picture of him online. "He was looking over his shoulder in front of sink where he was washing dishes. The hair on the back of his head was standing straight up. I was immediately drawn to his modest charm and obvious sense of humor," she says.
Three years later, Scott proposed to Maria at her favorite restaurant in New York City. He did it sweetly and privately after the place had cleared out in the evening. It was pretty darn romantic, and Maria loved it.
I met Maria and Scott at the Stone Arch Bridge in Minneapolis for their engagement photo shoot this summer. I was struck by how comfortable they are with one another. They clearly enjoy each other's company.
We took several pictures up on the bridge with the Minneapolis skyline in the background, down along the paths of Father Hennepin Park, and out on St. Anthony Main. We even ran into my wife, Liz, when she pulled up on her motorcycle to say hi! It was the perfect night for a ride… Which also meant it was a perfect night for photos! Maria, Scott and I got to take advantage of the warm light filtering through the trees in the late evening. Cottonwood floating about provided a quintessential summertime speckling effect in some photos, and we got some cool sunset camera flares a bit later.
I had a great time with you two, Maria and Scott! Enjoy your engagement pictures!