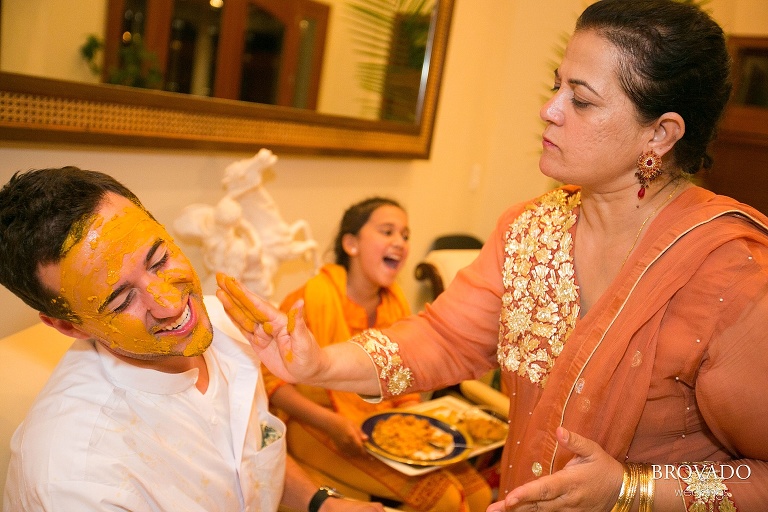 This is one of the most fun Minnesota weddings I've ever photographed!  Since Rosina's family is from India and Matt's is from the United States, this couple decided to have a wedding that incorporated many elements of both Indian and American wedding traditions.  All in all, the festivities lasted for THREE FULL DAYS, and I was lucky enough to participate in all of them – photographing their Gaye Holud (or Mayon) ceremony at Rosina's father's home, their Mehndi celebration on the eve of their wedding, and the wedding day itself, which featured a traditional American wedding ceremony and a lavish and elaborately colorful Indian wedding reception at the Depot in Minneapolis.
During the Gaye Holud (also called the Mayon), Rosina was dressed by her family members in traditional clothing and jewelry.  Her hands and feet had already been ornately decorated with henna.  Once she was ready, she and her family waited for Matt to arrive.  When he entered the house, he was visibly stunned by her beauty (so cute!), and wrapped her in a sweet embrace in front of the whole family.  Soon afterwards, more guests arrived and made a grand entrance complete with drums, dancing, and a musical procession.  The whole family joined in the dancing, and then they led Rosina and Matt to sit down in chairs so they could each greet them in turn by spoon feeding them sweets and rubbing turmeric on their skin, as is Mayon tradition.  As you can see by the wedding photos, this part might have gotten a little out of hand…
I enjoyed being a part of this tradition very much, and I hope you enjoy the pictures!  Please share them with your friends by posting this link to Facebook or Twitter!  And be sure to stay tuned for parts two, three and four of this elaborate Indian wedding in Minneapolis! Coming soon… Part 2: Mehndi Celebration, and parts 3 and 4: the wedding ceremony and wedding reception!