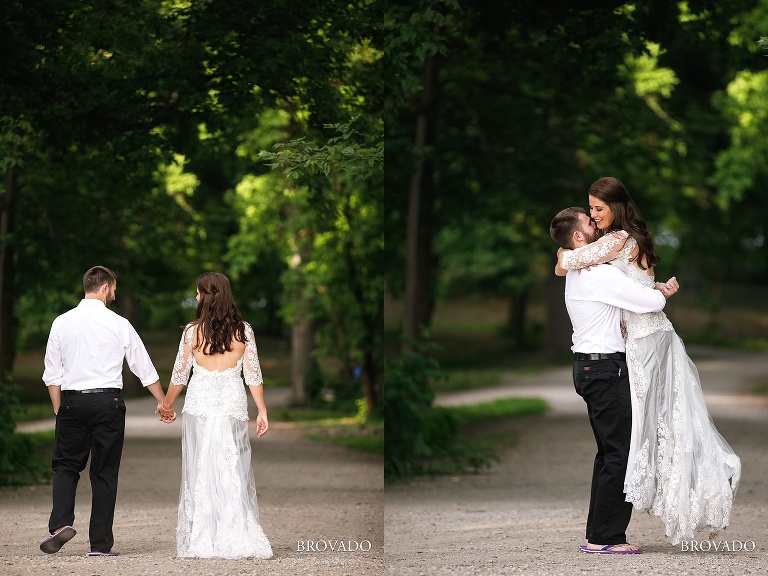 There's some controversy surrounding trash the dress shoots and whether or not they are appropriate, worth it, respectful, etc. And rightfully so! Conceptually, it might feel wrong to get the expensive, cherished dress you wore on your wedding day dirty at all. For anyone who desires to keep their dress as a precious memento (maybe even for your future children to wear), we want to affirm your decision as well. There is real value in keeping something that you made such special memories in (and most likely paid a lot for). We absolutely get it, this shoot is not for you, and that's okay! On the other side of the spectrum, however, are those of you who feel at a loss for what to do with the dress that you love so much, but know you won't ever wear again and don't want to store. For you, we recommend you three different options:
You can donate your dress for someone else to wear, love, and cherish

You could really trash it and let go of it

You could "trash it," dry clean it, and then store it or donate it! Almost all brides have confirmed that their dress came back looking brand new (dry cleaners are magical)!
What I'm getting at, is that actually "trashing" your dress is not the point. The point is letting go, continuing to capture memories, and embracing the reality that imperfection can sometimes be the most beautiful. Let me explain more…
You have spent months, maybe even years, planning your wedding – you deserve to let loose!
Use a trash the dress shoot as an opportunity to metaphorically wipe away all the stress that goes into making a wedding happen – give yourself closure from the planning process. You did it! You pulled off a gorgeous, meaningful wedding. It was inevitably perfectly imperfect, and trash the dress photos often serve as an artistic expression of that reality.
Your wedding day may have been close to perfect, but marriage won't be!
Perfection is more than a wedding dress, marriage is more than one beautiful day – marriage will be beautiful but messy. Kind of like a wet, dirty wedding dress. You can surely see where I'm going with this. Use a trash the dress shoot to tangibly let go of the misconception that your marriage must be perfect in the planned way that your wedding was. It can't be. So make a statement to yourself, your partner, and the world by getting a little bit of dirt on your dress and acknowledging that ultimately, your marriage will look more like your "trashed" dress than your wedding pictures.
You get to wear your dress again, and leave with uniquely stunning photos!
Regardless of what plans you had to do with your dress after, most likely they didn't include wearing your dress again. A trash the dress shoot is an opportunity to slip that gorgeous gown on one more time. But this time, you don't have to tiptoe around. You can be playful, carefree, and enjoy the moment without any restrictions. The difference will show in your pictures, I promise.
If as you read this, our reasoning behind why trashing the dress can be powerful, beautiful, and freeing resonates with you – we want to help! We have two different options to help you let go and "trash" your dress. The first, is a traditional trash the dress shoot, designed by you, us, or together (whichever feels more fun to you). The second, is called the Honeymoon Upgrade. Essentially, you pick a honeymoon trip that we have carefully designed, destinations range from the Midwest to Paris to the Jungles of Africa, and on your trip we join you for a day to shoot you and your husband in an exotic location. You don't need to get your dress dirty at all (we can be careful) or you can climb mountains, jump in the ocean, and lay on the beach in your gorgeous dress. This option will allow you to be freed from the stress of your wedding while capturing the absolute bliss you feel while on your honeymoon – a perfect combination.
Ultimately, we hope that whatever you decide to with your special dress after your wedding day feel appropriate and perfect to you. We're all different, we all process and feel uniquely, and your decision should reflect no one but yourself. But if you decide that trashing the dress is the right step for you, we want to help! Some of our favorites, Nova & John, took us up on the traditional shoot offer and had a blast (we did, too). If you don't believe me, look through these photos and see for yourself. 🙂