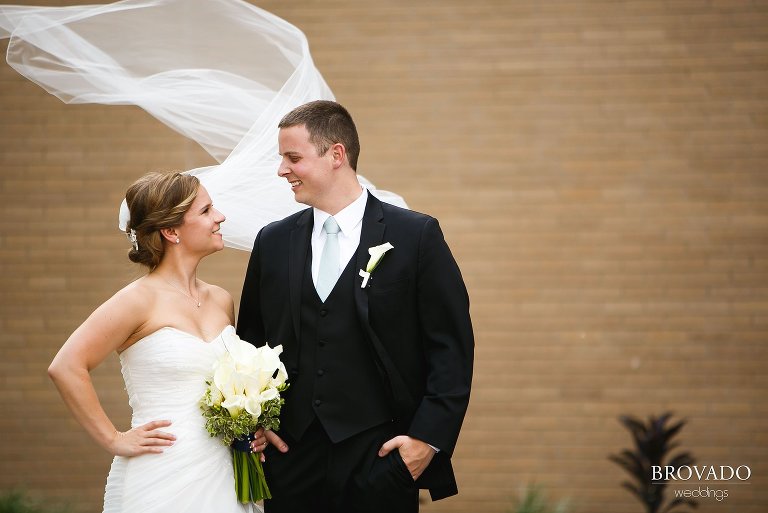 Simply put, Annie and Tyler are just happy people who are super in love with each other. They're the kind of people that you could throw obstacles at all day, but as long as they have each other, they'd be content. I know this to be true because on their wedding day, it kind of happened. For starters, they got married on a hot day, I mean really hot. Hot like I was sweating and drinking tons of water and worrying about the heat for them. But whenever I asked them how they were doing and feeling, they would both respond, "hot," but with a smile on their face, and leave it at that. No complaints, no high maintenance requests. They simply acknowledged the obvious and went on enjoying their special day.
As if the heat wasn't enough, Annie also lost her voice due to bad allergies. Although no one dreams to lose their voice on their wedding day, Annie somehow was able to laugh it off and turn it into an adorable, funny situation. I'm telling you all of these "not perfect" moments because Annie & Tyler's wedding was perfect anyway – because they allowed it to be. Even though Annie and Tyler went all out planning their details and decorations (which looked amazing), they didn't stress about any of it on the actual day of the wedding. Even though it was crazy hot and Annie lost her voice, they didn't let that distract them from the true meaning and beauty of their wedding day – they fully embraced every moment regardless if it was how they planned it to be or not.
People like Annie and Tyler are rare and wonderful. I truly mean that. They were easy going, relaxed, fun, and crazy in love. In my opinion, they cracked the wedding code. They didn't expect or demand perfect, they focused on the important stuff – each other, their awesome families and friends, enjoying their unbelievable 12-person band, breaking it down on the dance floor, and cherishing all the special moments. Annie and Tyler, you were our dream clients on your wedding day, we all have a little bit to learn from your approach to life and love. Congrats again!