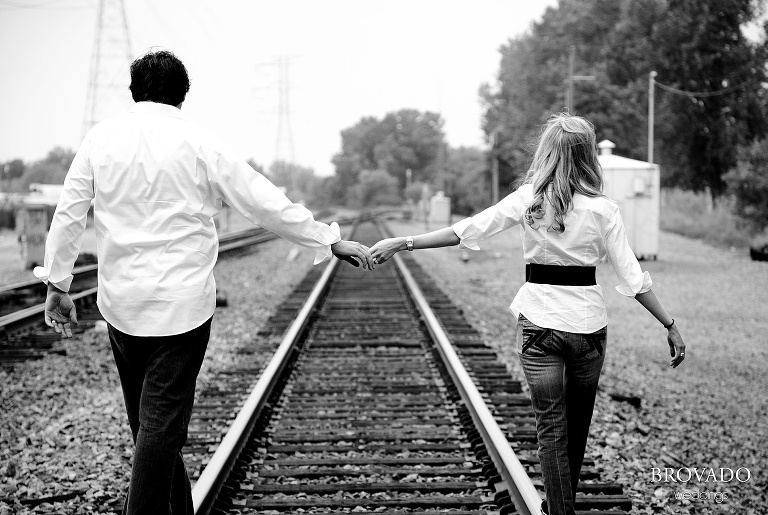 This is an interesting Engagement Photography Story…  I took Christal and Eric's engagement pictures AFTER they were married due to scheduling conflicts by both of us, and because they booked me as their wedding photographer very close to their awesome wedding date of 7/7/07.  When we finally had time for the shoot, I took them to one of my favorite places; a section of rail road tacks in Coon Rapids, Minnesota.  It's a very busy section of track where it's rare if a train isn't seen every 15 minutes or so.  Moving trains and train tracks almost always make a good backdrop for Engagement Pictures!
I should have realized something was wrong when I didn't see a train for over an hour, and my cell phone started ringing like crazy…
I ignored  the calls at first, and then finally picked up the phone once I realized I was receiving calls from people I hadn't heard from in years!  I was notified by a frantic loved one that the I-35W bridge in Minneapolis had collapsed.  Everyone was calling to see if I was alive as I typically drive over the 35W Bridge up to 4 times a day.  It turns out that I drove over the 35W Bridge on the way to this photo shoot approximately 30 minutes before the bridge collapsed, and Christal and Eric did around 15 minutes before it collapsed!  Since the accident, I've heard many similar stories that make me shudder.
My heart goes out to those who suffered injuries or lost loved ones in the 35W bridge collapse.  It was a sad day for our city.
See below for Christal and Eric's Coon Rapids engagement photos and a tribute to those lost in the 35W bridge tragedy.
Click here for Christal and Eric's Wedding Pictures
Click here for Christal's Maternity Pictures